About WeCode24
WeCode24 is an after-school coding programme designed to inspire a culture of curiosity, creativity and agency among South African youth. Through our online platform and in-person workshops and events, we provide learners with a fun and accessible means to discover the joy of coding.
Our Mission
At WeCode24, learning to code is not only about a future career - it's about becoming a technology-empowered individual in our modern world.
That means helping our learners take creative control of their lives by getting in touch with their own intrinsic motivations and growing in the confidence to pursue their interests.
Figuring out for themselves how things work, seeing everyday problems as opportunities for creative solutions, and finding new and innovative uses for the things around them are qualities that we aim to instil in our learners. Learning to code provides a great opportunity to develop these.
At WeCode24 we call this having a hacker mindset… find out what we mean here:

What We Do
We value curiosity, play and experimentation and want learners to be empowered to apply themselves creatively to their own unique contexts. We provide the guidance and tools that learners need to do this, through a carefully created online curriculum and in-person workshops.
Here are three core tenets of what we do:
Authentic Play
Creative experimentation with code gives rise to real world applications. Learners implement their own designs using our online code editor, from games to devices that repurpose objects in the world around them.
Social Learning
Coding is a personal and social experience as learners engage with lesson material and each other through an online platform and community, as well as at workshops and coding clubs presented at participating organisations.
Scaffolding
Learners progress through the lesson material in stages on the online platform, in a self-directed way. The information is presented in manageable chunks and reinforced at key workshops during the year.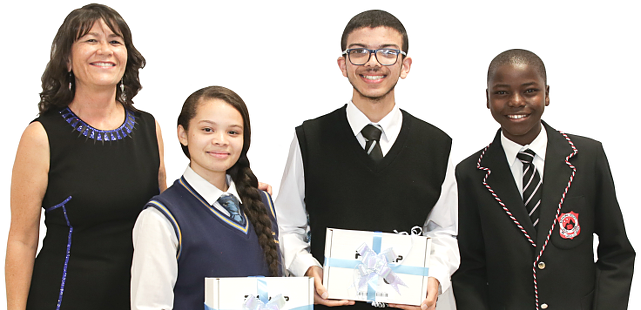 Who We Are
WeCode24 is the brainchild of founder Rachel Jafta and programme developer Abraham Coetzee.
Rachel is a professor of economics at Stellenbosch University, a director of Naspers and the chairperson of Media24. She has been responsible for initiating a number of successful social development programmes which work to establish future economic opportunities for South African youth.
Abraham is a software developer and educator, whose passion lies in enabling individuals to truly understand the world around them, and to change it for the good.
The first pilot of WeCode24 ran in 2018 in 4 schools in the Western Cape, focused on in-person learning through coding clubs and workshops. In 2019 funding from Naspers was approved to develop an online learning platform that would complement the in-person programme and reach a greater number of learners. The outbreak of COVID-19 delayed the implementation of the new programme, which has since begun rolling out in 2021.
Find out more about our sponsors and partners:
Hear It From Them
Our learners really resonate with the educational approach we take and the positive freedom that it gives them. Here's what some of them have to say about the programme:

The best thing for me was the way the programme was delivered, it was very fun and exciting and educational at the same time.

— Peter Esterhuizen, grade 9

I learned new things that I never expected I could do.

— Tarryn Matheyse, grade 11

The best part is the freedom, it's not like regular boring classes.

— Ethan Hofsta, grade 10

I wouldn't change anything about the programme!

— Tlhologelo Letebele, grade 10